It starts at the yarn wall
Color and fiber are the foundations of the work, and so the wall of yarn is the first stop in our design journey.
In order to organize the yarn into a warp, we wind it onto the warping reel. This ensures the yarn is the right length and in the right order.
Next we put the warp onto the loom. If the pattern is already in place from the last warp, we tie the old onto the new. If not, we re-sley the whole thing. We tend to wind on 20 yards at a time.
This is the amazing, meditative part. Here we add the weft and make more decisions about color, fiber, and pattern. There are plenty of opportunities here to be creative and make changes from one inch to the next.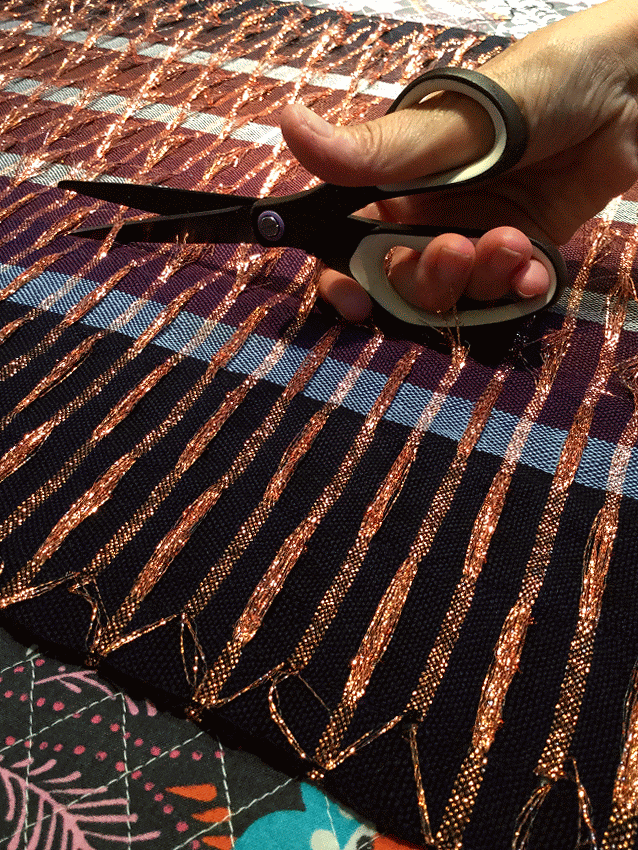 When the warp is all woven, we pull it off the loom. Some of our fabrics involve fringe, which we trim before the fabric goes into the wash. This gives the fringe body and softness.
When the fabric is ready, it's time for the wash. We wash out all the stiffening agent that yarn companies add to aid in the weaving process, leaving the fabric gloriously soft.
We are always developing new designs, and when we find one we love we make a pattern. This is our last chance to make any fabric combination decisions. And then we sew it up!
If it has been tagged and labeled, the jacket is complete. It is now ready to be brought to a show, sent to a boutique, or delivered directly to a customer.